XVL Web3D Manager
An Enterprise Solution for Browser-Based Access to 3D Models
---
Interactive Web3D Samples
View these samples with any standard web browser, NO plug-in is required.
Your models could be available to your stakeholders just as easily, with added security. Viewable with any web browser that supports HTML5...computers, laptops, even tablets.
Interactive Sample #1
The template used for this example includes a browser for the Bill of Materials, Part Description Window, and the Parts List.
Interactive Sample #2
This sample includes four models. The template used includes the browser for the Bill of Materials.
Get the Whitepaper
"How manufacturers are leveraging their 3D CAD data to lower costs, improve quality and accelerate time-to-market"
Enabling access to product data to ANY stakeholder is fundamental to the company striving for increased efficiency and innovation - whether you call it Industrie 4.0 or the Model-based enterprise.
This whitepaper explains why XVL can be the enabling technology you need.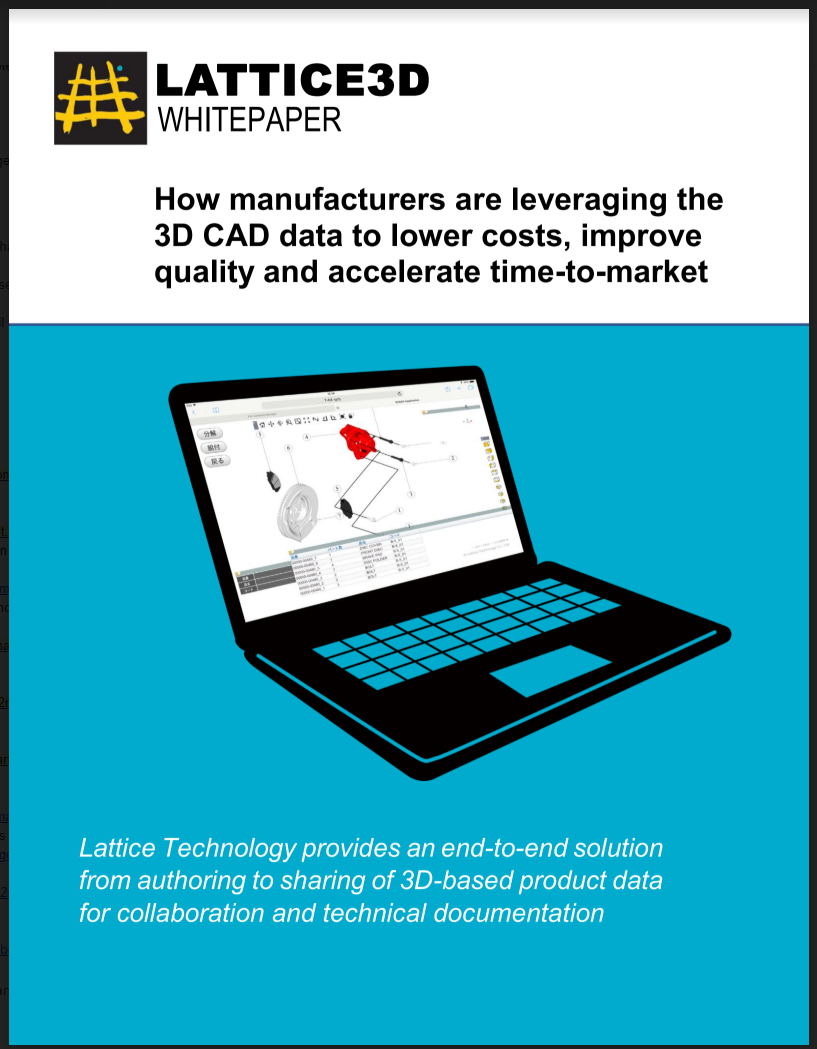 Product Overview
XVL Web3D Manager is a server-based product that manages and distributes web content derived from an XVL model.
XVL is uniquely suited for this because it is ultralightweight while maintaining CAD-level accuracy so that even gigabyte-sized CAD models can be accessed at one time.
And XVL can handle manufacturing information, such as Bills of Materials (BOMs) and metadata. 3D documents can easily be created and shared among the enterprise via modern web browsers which support HTML5 (without additional plugins) including tablets.
Common Use Cases
Anyone who needs access to 3D model and related data can benefit from XVL Web3D Manager. It is easy to use and enables access for viewing for FREE to anyone. Since the XVL format is ultralightweight, entire products can be accessed, even those with hundreds, if not thousands of subassemblies and parts.
Here are some specific uses cases:
Shop floor assembly: Access to interactive assembly work instructions1
Service: Access to interactive service instructions1
Parts Catalog: Create intuitive and interactive system for part identification
Procurement: Access to complete product model information and metadata
Design Reviews: Enable stakeholders to quickly and easily participate
1Using Lattice Technology's XVL Studio, process steps are defined for purposes such as assembly and service. The ability to include these process steps in Web3D Manager will be available in the second half of 2019.
​​​​​​Products Characteristics
Extend the use of 3D CAD models: By enabling web access using a secure format. Only authorized users can access the 3D content.
Increate Understanding: Interactive 3D models are easier to understand saving time, increasing productivity and quality.
MBE: Enables the model-based enterprise approach to reduce or eliminate unnecessary and hard to understand 2D drawings and documents.
Simple Creation: 3D documents are created automatically using a template from all standard 3D CAD systems.
Streamline Integration of Design Changes: When a design change is made in the native CAD system, the XVL model is updated and all changes are displayed visually and in a report. The person responsible for authoring the XVL will process the changes, updating the XVL model and web content.
Features
Large Data Handling
For example, a full vehicle can be loaded on a mobile table using our smart-loading technology.
Use Standard Modern Web Browsers Without Plug-Ins
XVL Web3D Manager uses WebGL technology so that the 3D models can be viewable from any standard modern web browser that supports HMTL5.
Animated Web Content2
2D documents are static and require a lot of text information to describe complicated work. By utilizing 3D data and animations, much of the text information can be eliminated
2Using Lattice Technology's XVL Studio, 3D process animations can be created. These animations can be accessed from other Lattice Technology viewing options but will not be supported by Web3D Manager until the second half of 2019.
.