CAD Agnostic — Convert Any CAD Format to XVL
XVL is a unique 3D format.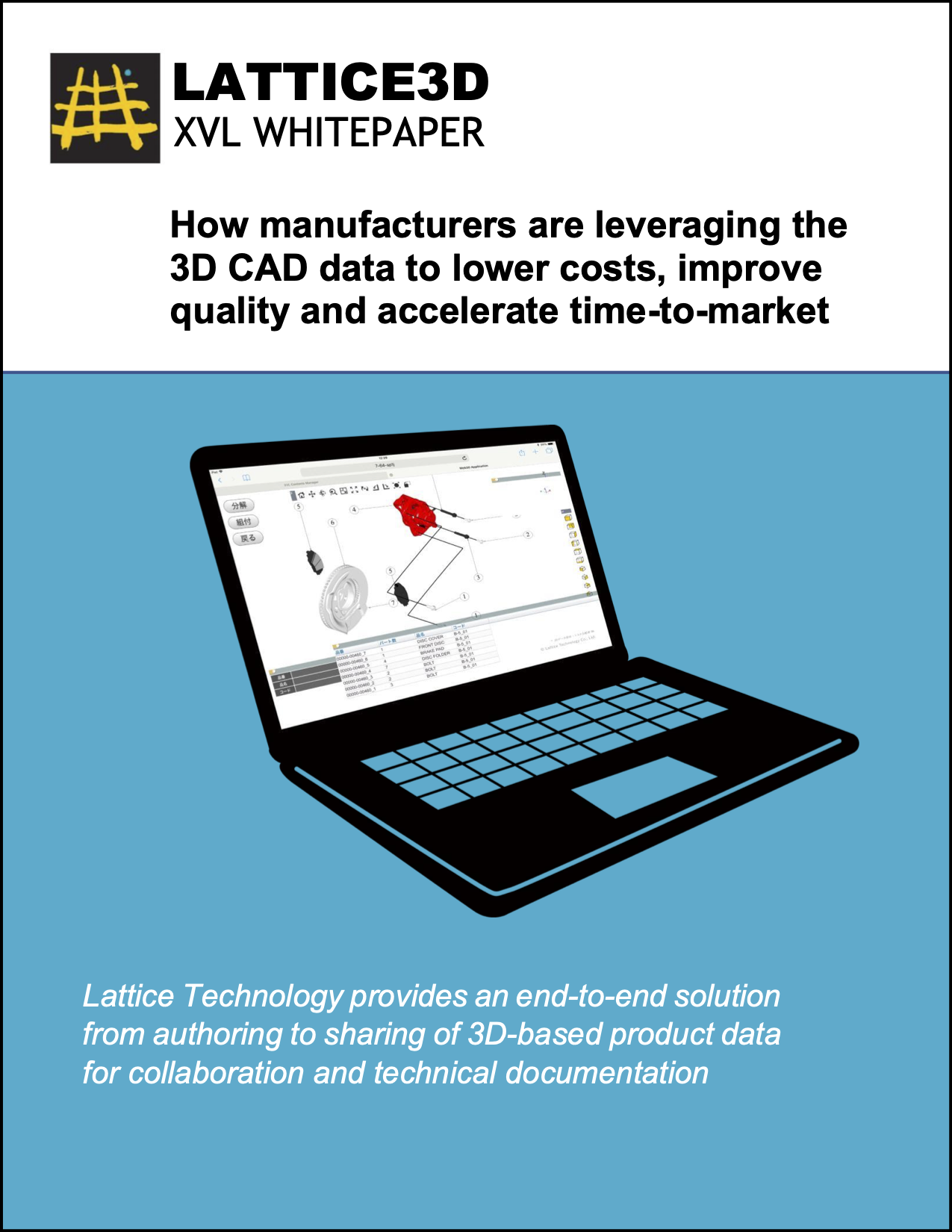 Multiple CAD files from multiple CAD systems (e.g. SOLIDWORKS, Pro/Engineer, and CATIA) can be combined into a single XVL file.
This file will be approximately 1/100th the file size of the original CAD files, yet it will retain CAD-level accuracy.
This page outlines some details about XVL.
If you would like to learn more, we are glad to offer this whitepaper.
Ultra-lightweight 3D Models
XVL Converters are industry-leading converters that quickly and accurately translate all major CAD and 3D data formats into XVL, able to compress 3D data up to 0.5% of its original size with very high accuracy.
Convert from Any CAD
XVL Converters access CAD models through the respective CAD system and achieve breakthrough ultra-compression by expressing the model as highly compressed 3D surfaces that maintain both high accuracy and the visual integrity of the original data. All converters can perform post-processing commands after conversions.
Direct CAD file input into the Lattice Technology Solutions is also available using XVL Studio with Multi-CAD Import option.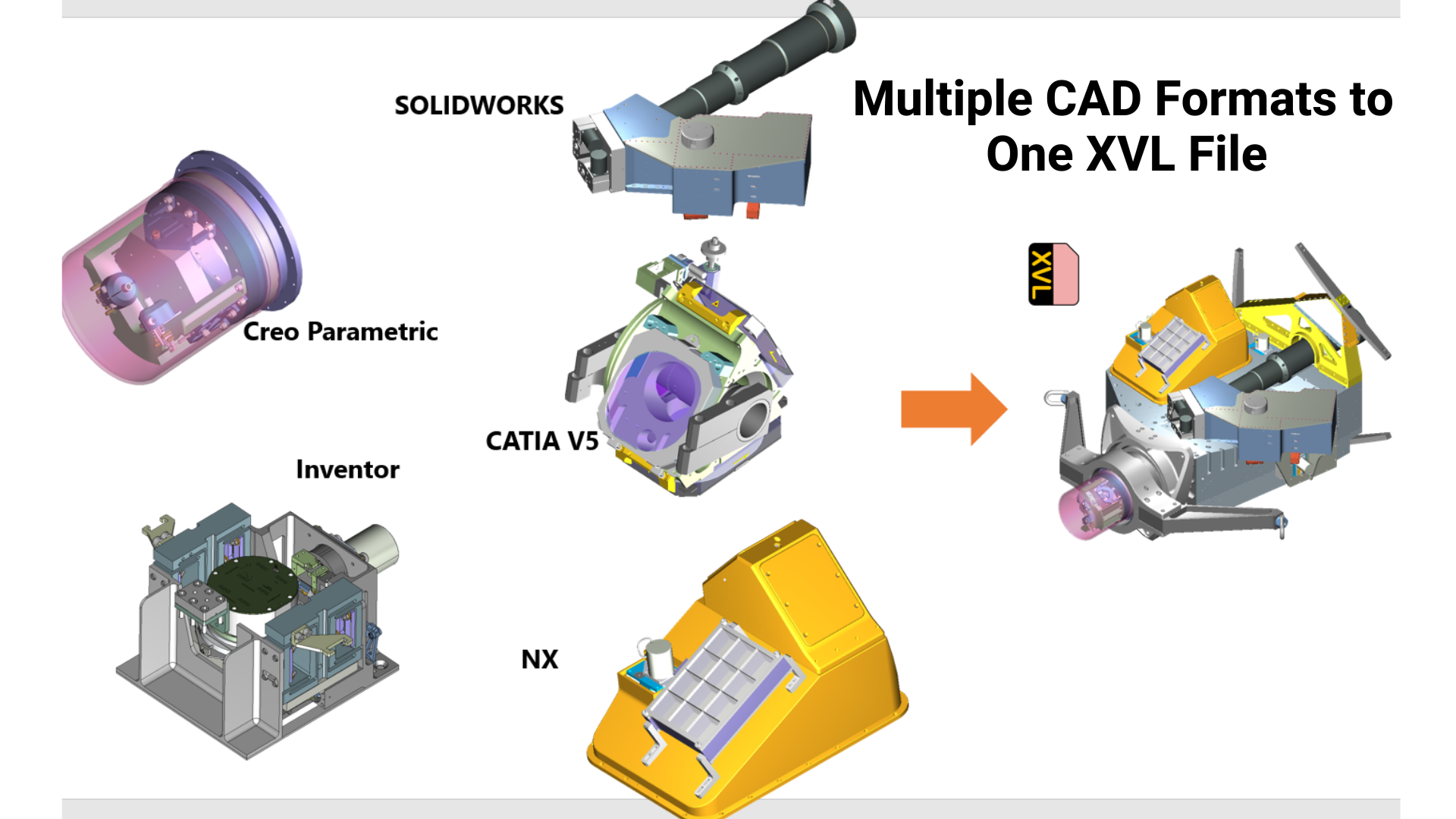 XVL Converter Plug-ins & XVL Converter Servers
XVL Converter Plug-ins are plug-ins for CAD systems and other applications to enable the user to export XVL files directly from within the application.
XVL Converter Servers are stand-alone applications that initiate XVL conversions from a command-line, by external application or by user interface.
Click to download the Converter Table ​​​​​PDF
The above table shows the most recent format and version support for 3D CAD data. Older versions are supported but not listed.
Key Benefits of XVL CAD Converters
Automation and Reliability - proven, extremely dependable, large-scale, flexible, enterprise-class and industrial-strength automated file conversion.
Enhance collaboration with enterprise-wide access to ultra-compressed 3D CAD while preserving the accuracy and visual integrity of the 3D model.
Solve the multi-CAD problem by converting and then combining your data from multiple CAD formats into a single, compressed, efficient format: XVL.
Improve productivity in your business processes by enabling 3D CAD asset re-use, eliminating the need for data recreation and the potential for errors or repetition in downstream applications.
Ultra-compression - the best available compression for the lightest no-loss 3D files with high fidelity graphics.
Capabilities

Benefits

Ultra-compression of 3D models
All major 3D formats converted to XVL.

Enables increased innovation, collaboration, and communication across the enterprise.

Large-scale Data Handling
XVL scales to very large data sets.

Handle relatively simple to extremely complex models with the same technology.

Advanced Conversion Parameters
The user can specify conversion parameters such as accuracy tolerance and single/multiple file generation and XVL type. Users can choose the size and accuracy of the XVL model for their own needs.

Protect your data ... by deliberately reducing the accuracy of the model, it can be used for process animations but not for manufacturing. This simplification enables the publication of basic 3D data without revealing sensitive or proprietary information.

Detailed Conversion Logging
Each time XVL converters translate CAD data, critical conversion information is saved in log files.

Provides an audit trail for thorough tracking of data sources.

Automated Conversion Initiation
XVL Converter Server includes a command-line interface that enables external systems to convert CAD data automatically.

Enables more productive conversion processes and automated updating of downstream publishing.

Seamless Workflow Integration
In system integration, each conversion might need some additional processing, such as registry into another database. In these cases, the XVL Converter Server allows the user to add additional processes right after conversion.

Converter Servers conveniently integrate into Product Data Management and Lifecycle Management (PDM/PLM).

Bi-directional 3ds Max Conversion
The 3ds Max converter is an exception as it supports conversion from 3ds Max to XVL and vice-versa.

Bi-directional data exchange includes geometry and animations.
CAD Agnostic Converters - Available for the Following 3D Formats and CAD Systems
Last updated: July 7, 2022
3DS
3D XML
3ds Max
3ds Max Design
Autodesk Inventor
CATIA V4 - CATIA V5
Creo Elements / Direct Modeling
Creo Parametric
DXF / DWG
NX I-deas
IGES
JT
NX
OBJ
Parasolid
PRC
Solid Edge
SolidWorks
STEP
STL
U3D
WRL / VRML2
Want More Information?