Digital Transformation Initiatives
Many technology companies are jumping on the Digital Transformation "bandwagon" today. Not us.  We have been enabling Digital Transformation for manufacturing companies for more than 20 years.
Our company's mission is to enable manufacturing companies to leverage their 3D assets to transform how they do business. In other words, enabling Digital Transformation.
How We Do It
We compress all the 3D CAD and related data into a lightweight, accurate, structured 3D XVL model. Furthermore, the XVL model remains associated to the original 3D CAD data so that when the design changes, it can be automatically updated (with oversight). This ensures that all stakeholders are working with the latest, most up-to-date information.
Below are just some of the ways that XVL from Lattice Technology can transform your business to improve productivity, shorten time-to-market, increase quality, and maximize profit. We call these initiatives.
Digital Transformation Initiatives for Manufacturing Companies
Virtual Product Model for Stakeholders Downstream from Design
A Virtual Product Model (VPM) is a complete virtual representation of a product.  By complete, we mean that it includes all parts, assemblies, and metadata,  And, of course, it needs to be 3D -- an accurate visual representation of the complete product and related information. 
Virtual Product Models with XVL
If your company makes complex products with hundreds or thousands of parts, bringing them all together isn't easy.  The first issue is that multiple 3D CAD systems might have been used for design, so you must import parts and assemblies from multiple sources into a common environment. Once you get all the data together, it turns out to be enormous, with sluggish performance.
XVL solves these problems. 
XVL is compatible with all major 3D CAD systems. And the native 3D model data from different companies can be combined into a single XVL file. And the data structure is ultra-lightweight, so you can get the performance you need no matter how many parts are in the model.
Here are just some of the attributes of a Virtual Product Model using XVL:
Contains all of the parts and assemblies, combining all 3D CAD files
Has 3D CAD precision
Maintains association to the native 3D CAD
Contains the complete Bill of Materials (BOM)
Includes all metadata with semantic PMI
Is version controlled
Can be directly used for Virtual Reality, Augmented Reality, and Mixed Reality
The Virtual Product Model allows all stakeholders downstream from design access to all of the information they need to perform their jobs using only a standard web browser, such as:
Manufacturing Planning
Assembly Work Instructions
Technical Illustrations
Service Work Instructions
Technical Manuals
Virtual Product Model Blog Post
Model-Based Enterprise (MBE)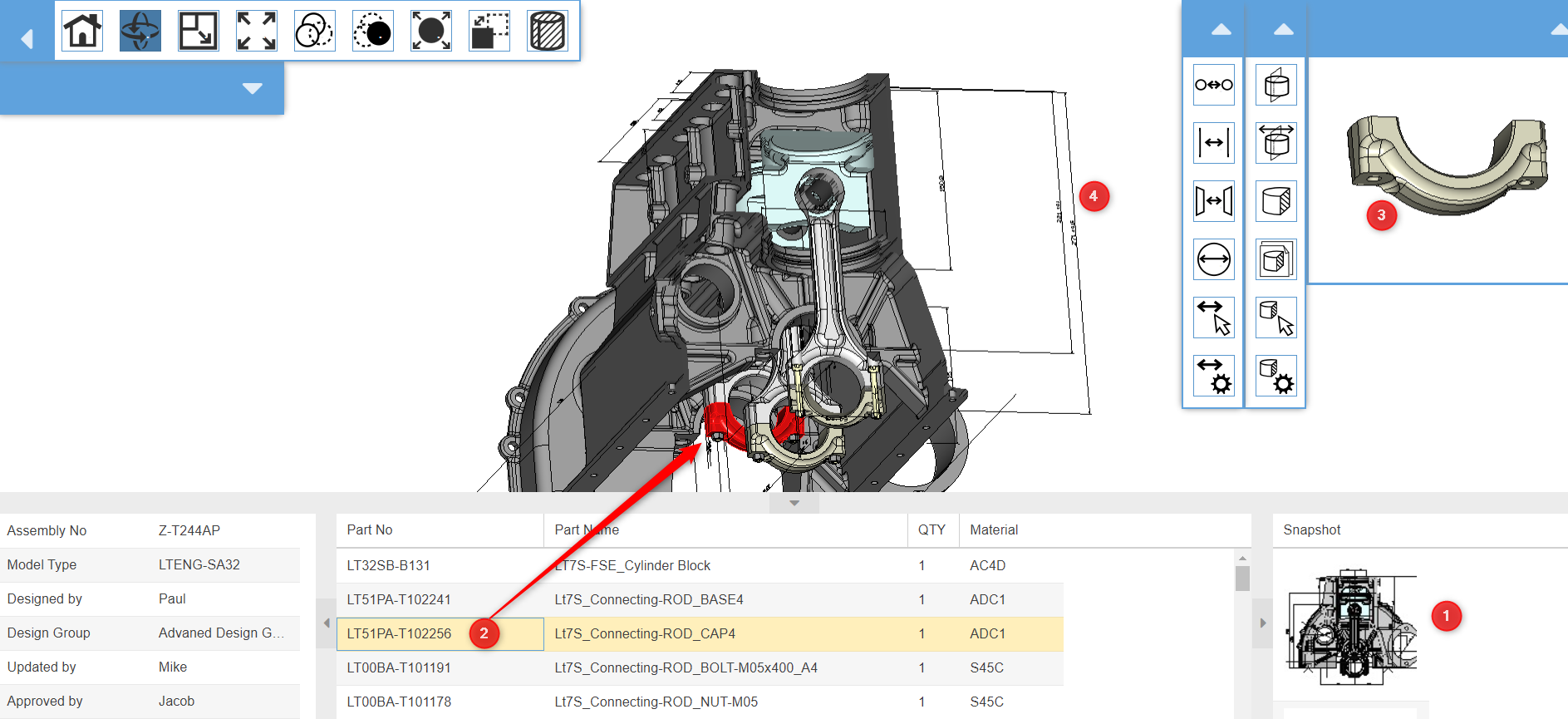 Simply put, the objective of MBE is to make the 3D model the trusted single source of data for the enterprise.  One of a company's most significant time wasters is translating 3D models into 2D drawings for manufacturing.  2D is an abstraction, and it is hard to interpret. Wouldn't it be better if the 3D model could be used instead?
MBE with XVL
With XVL, you can replace your 2D drawings with accurate, lightweight 3D models. The 3D XVL model contains all of the information needed by downstream stakeholders, including semantic PMI. To replace a 2D drawing, the XVL feature 3D Snapshots is used. A 3D Snapshot can contain all the details previously captured in 2D drawings. However, unlike a 2D drawing, they are interactive 3D. And like all XVL models, they can be automatically updated to stay in sync with design changes in the original 3D CAD source.
Digital Twins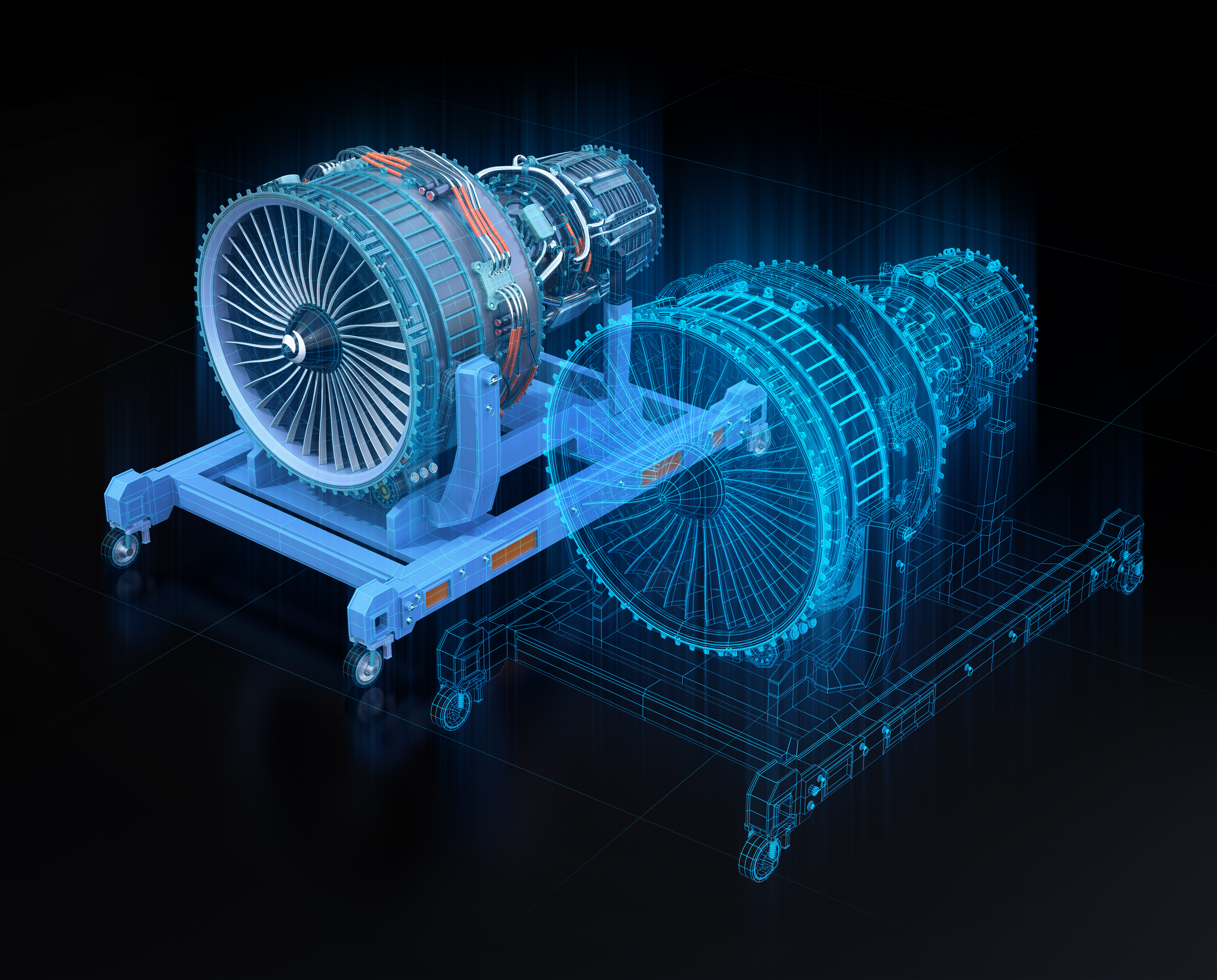 A digital twin is a software representation of a specific physical product and the data from its operation.  The operational data originates from sensors and other sources to create a digital mirror of a real-world product in operation. 
Digital Twins with XVL
XVL's role with Digital Twins is to be the visual reference for the data. Each finished product can have its own as-built XVL model.  Since XVL includes the complete product structure, it is the perfect model for the data repository.  Furthermore, as the physical object is maintained and enhanced, the XVL model can be updated to reflect the changes.
Download our eBook, which covers Digital Twins and many more initiatives that world-class manufacturing companies are using for their Digital Transformation journey.
eBook: Using 3D Data to Improve Manufacturing Processes
Accessibility of Digital Product Data for All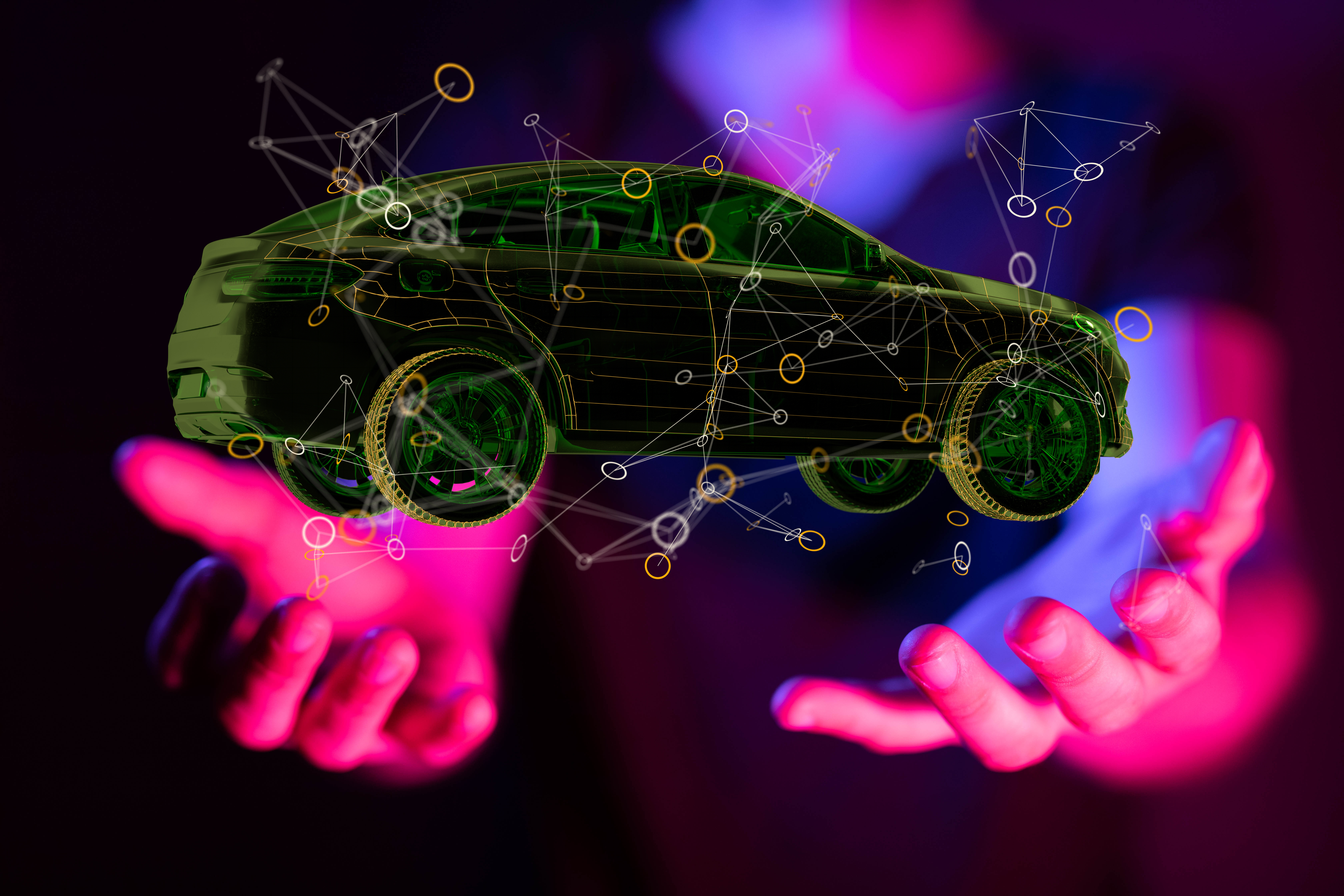 For stakeholders in manufacturing companies who need product-related data, it should be easy to access, with security and control.
Access to 3D Digital Product Data with XVL
The completeness and lightweight nature of XVL make it ideal as the data source for this initiative. 
In addition, we offer streaming technology with XVL Web3D Manager. Users are granted access to view and/or manage content regardless of their location, device, or platform. XVL Web3D Manager publishes interactive 3D content that can be viewed directly by the user's browser -- no addons are required.
Viewing published content is free -- no license or subscription is required. That means that no matter where stakeholders are or what device they're using, they can easily interact with rich interactive 3D content over the web.
Visit the webpage below for more information. Also on this page are live-streaming demos using real 3D CAD data.
Digital Assistance for Service using Augmented Reality, Virtual Reality, Mixed Reality
Using Augmented Reality (AR), Virtual Reality (VR), or Mixed Reality (MR) for servicing complex products can significantly enhance the efficiency, accuracy, and effectiveness of service personnel performing maintenance and repair tasks.  Whether used for your service departments, 3rd parties (e.g., dealers), or self-service for your customers -- efficiently and accurately communicating service procedures and facilitating replacement part identification is important. 
Augmented Reality (AR), Virtual Reality (VR) and Mixed Reality (MR) with XVL
AR, VR, and MR are perfect for clearly communicating service procedures. There are two ways that XVL benefits this initiative.
Data.  If your company manufactures complex products, you will have hundreds or thousands of parts in your Bill of Materials.  The parts may have been designed using different CAD systems.  The CAD files can be enormous.  Transferring the data from CAD to a VR/AR/MR tool is difficult, and you will spend a lot of time preparing the data for each iteration. 
XVL solves this data problem: 
All native 3D CAD files are combined into a single XVL model (regardless of 3D CAD format)
The complete product structure is preserved
XVL is ultra-lightweight, about 1/100th the size of the original CAD models, necessary for high performance
AR, VR, and MR tools can use this same version of the XVL data without additional preparation 
Authoring Service Instructions.   XVL Studio enables the authoring of step-by-step service instructions. It leverages your 3D CAD data. It will recommend paths for a part to move into position and identify clearance issues, including tools. Human interaction can also be modeled.
XVL Assembly & Service Instructions
Digital Assembly Planning
Traditional assembly process validation starts with the design release. Then, physical prototypes are often used to develop and check the assembly processes.
By virtually planning, the process can be started much earlier and accomplished without physical prototypes. The entire assembly process can be simulated, including tools, machinery, and even human interaction.
Digital Assembly Planning with XVL
With XVL, you can start manufacturing planning with the complete Virtual Product Model. No waiting for physical prototypes. And XVL is CAD-level accurate so that you can do real work.  And you will have the performance you need because the model will be ultra-lightweight. 
Plan part by part.  The part travel path is predicted, and clearances are virtually checked, even for tools and human access.
The entire assembly process can then be simulated, allowing manufacturing engineering to find potential problems and optimize the assembly process.  
And all of the planning work is used for the next step, creating the manufacturing assembly instructions to be used on the floor.
Digital Assembly Process Planning
Factory Planning (Shop Floor)
How do you plan for new manufacturing lines or changes to existing lines? This can be very complicated. There are space considerations, material movement, machinery, and human interaction to be considered.
Digitally design your manufacturing floor.  Virtually plan your entire manufacturing process from material movement to machine placement.  Ergonomics for your workers can also be simulated. 
Factory Planning with XVL
Start with digitalizing everything using a 3D scanner, the building and machinery, and anything else involved in the manufacturing process. Each scan will be a point cloud. This data is brought into XVL.
These scanned point clouds are typically extremely large and can easily be in the gigabytes. XVL handles this data easily and will give you the performance you need.
---
These are just some of the initiatives that our customers are taking with XVL. For more information about XVL Solutions, visit the webpage below.
If you have any questions about what Lattice Technology can do for you, click below.
Other Management Roles for Digital Transformation
Ready to Explore How XVL Can Benefit Your Manufacturing Company?
Complete the form and we will reach out to you.