Lattice3D Reporter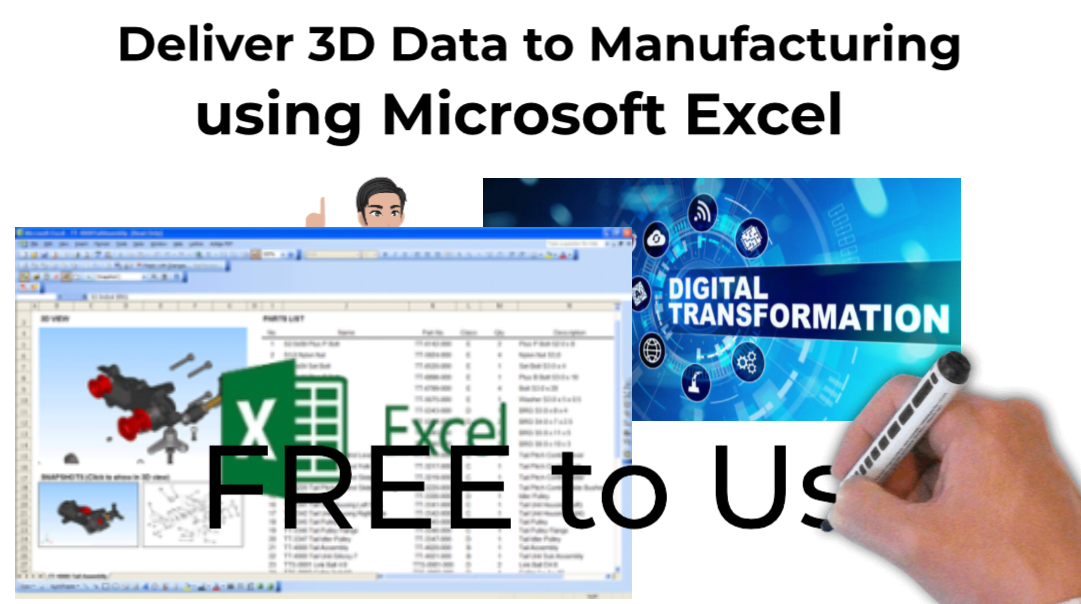 Watch 3-Minute Explainer Video
---
For Authoring, Publishing and Sharing Interactive 3D in Microsoft Excel and 3D PDF
Lattice3D Reporter brings the intuitive power of 3D visualization to anyone by enabling the consumption of interactive 3D models and associated information to anyone using either Microsoft Excel spreadsheets or interactive 3D PDFs.
There are two sides of Lattice3D Reporter: Author and Consume.
Author (Create)
Use Microsoft Excel to Create 3D Technical Documentation
A purchased license for an add-in to Microsoft Excel, allows an XVL model and associated information to be embedded into a Microsoft Excel file and to create interactive 3D PDF files. To request a trial, click the Request Contact button at the bottom of this page.
Consume (Use)
Any Stakeholder With Microsoft Excel Can View 3D in Excel for FREE
A FREE add-in for Microsoft Excel, allows for complete consumption of the embedded model and associated information. Follow the link to get the download.
By using the free "add-in" for Microsoft Excel, anyone in your extended enterprise can have access to the product data they need to perform their job. With Lattice3D Reporter, you can easily and quickly embed ultra-lightweight versions of your 3D CAD models into any Microsoft Excel file.
The model and its parts are linked to BOMs, assembly instructions, procurement lists, etc. Lattice3D Reporter immediately and easily improves communication. Use Excel spreadsheets to leverage 3D CAD models across the Extended Manufacturing Enterprise.
Increase Productivity and Reduce Errors by Sharing Product Information
Lattice3D Reporter increases productivity and reduces errors by enabling people in the extended enterprise to quickly see, review and use 3D data via the world's number one communication tool - Microsoft Excel. Creation of the spreadsheets does not require the expert input of engineers or demand additional CAD seats, thus ensuring that all resources are being optimally used. This process can be automated using templates.
Share 3D CAD Product Data in Excel Spreadsheets with Anyone
Spreadsheets created using Lattice3D Reporter are easily shared throughout an organization and immediately viewed using the Lattice3D Reporter Viewer - provided free-of-charge by Lattice Technology.
Leverage Your 3D CAD Data Models Across Your Extended Enterprise
All reports are created directly from design and list data into print-ready and digital formats depending on your workflow. Work instructions can include interrelated assembly animations which run alongside each written instruction.
Use Lattice3D Reporter for Sharing 3D CAD Standalone, or Integrated with Your ERP, PLM or PDM Systems
Lattice3D Reporter works both as a stand-alone system or integrated within existing ERP, PLM and other IT infrastructures. Data used in the spreadsheets can be extracted from these, and other sources. This capability ensures that all required information is easily delivered in a standard document.
Automate Using Templates
Lattice3D Reporter with the Template Option delivers unprecedented automation advantages into spreadsheets at a single click of a button. By using pre-defined templates, you can create print-ready and digital reports, parts lists, work instructions and more directly from XVL or 3D CAD data into an Excel spreadsheet — with almost no human interaction required. Because this feature fits directly into a workflow, all stakeholders in a product manufacturing process have the right information as soon as it is released or updated by the design departments. Click here to view a brief demo.
---
Benefits of Lattice3D Reporter for Manufacturing Using Excel Spreadsheets for Collaboration
Increase Understanding and Collaboration throughout the Supply Chain
Raise the level of communication throughout your organization. Capitalize on the intuitive power of visualization for communication of accurate work instructions, detailed parts lists and mBOMS/sBOMs. Integrated and animated 3D processes allow parts to be visually cross-checked on the documents.
Increase Productivity of Engineers, Technical Document Specialists, Assembly Workers and Anyone Who Needs Detailed Product Data
Deliver accurate work instructions and reports as soon as design data is released. Downstream users can immediately prepare, train and operate with the right documents and data.
Use Existing Workflows, Processes and Standard Formats
Build 3D spreadsheets into existing processes and IT infrastructures using industry-standard document formats with both print-ready and digital versions.
Avoid Delays Caused by Engineering Change Requests (ECN, ECO, ECR)
Always have the correct data on hand, even when changes have occurred upstream. No more waiting weeks and months for new instructions and reports.
Eliminate Errors in Production and Assembly
Customers have proven that accurate, detailed work instructions and BOMs with 3D animations and interrelated data can achieve the following:
reduce and eventually eradicate errors on the shop floor
significantly reduce training times
reduce scrap
---
Features of Lattice3D Reporter for Microsoft Excel Spreadsheets
Expands the Microsoft Excel toolset for 3D – Lattice3D Reporter works inside Microsoft Excel and saves your reports in the ubiquitous spreadsheet format of Excel with the standard ".xls" extension. The document includes all the XVL data and works on any Excel application.
Lightweight Format – All 3D graphics load quickly from the lightweight XVL format. This capability allows you to locate a part on a list visually, rather than trying to remember long numeric IDs. The embedded viewer also includes smaller thumbnail options or "snapshots" with each part entry, allowing you to include alternate perspectives, assembly relationships, or animated instructions.
Automated update – When your engineering data is updated and released, Lattice3D Reporter can use the new data to automatically update the previously created spreadsheets. .
Integration with existing IT infrastructures – Lattice3D Reporter can easily work within existing ERP, PLM and other IT infrastructures, allowing data from many sources to be rapidly used and integrated. Data may include BOMs and lists from ERP alongside 3D CAD data from engineering.
Want More Information?